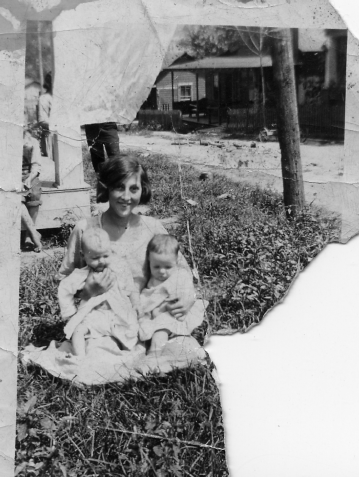 Gladys Meece Schenk holding half brother Eugene Meece & half sister Geneva Meece. Gladys was d/o James Meece & Nellie Adams. Eugene & Geneva are children of James Meece and his 2nd wife Rachel Jones.
Rachel died 30 Aug 1929 Bell County, Kentucky. James and children are in Ohio in 1930 census. Children where in Kentucky Children's Home Society in Lyndon Orphanage in 1929 while James was in National Military Home in Dayton. He asked for his children to be placed in Government Home in Xenia, Ohio. James died 1936.
1930; Census Place: Madison, Montgomery, Ohio; Roll: 1857; Page: ; Enumeration District: 196
James I. Meece h 49 m 21 KY KY KY
Geneva d 6 KY KY KY
Eugene s 5 KY KY KY
James, Jr. s 2 11/12 KY KY KY
Amanda mother 71 wd KY KY KY
Does anyone know what happen to Geneva Meece b. 11 Jan 1924, Eugene Meece b. 12 Feb 1925, James Meece, Jr. b. Apr 1927. Please contact me.